---


---




---








Also Try Japan Roads
for Tours to Experience Japan's Cultural Diversity


Make a Reservation at a Ryokan (Traditional Japanese Inn) Anywhere in Japan

Home > Kyushu Region > Prefecture > Shimabara and Mount Unzen Ryokan

| | | |
| --- | --- | --- |
| | Shimabara and Mount Unzen Ryokan | |

The Shimabara Peninsula, a volcanic region in Kyushu (Nagasaki Prefecture), is where the 17th century Shimabara Rebellion occurred. This revolt worried the ruling government because it was led by Japanese Christians, a minority that was soon weakened and driven underground.
Mount Unzen (Unzendake) is a series of overlapping, active volcanoes on the Shimabara Peninsula, and it is home to beautiful natural scenery as well as a number of hot spring resorts.
Shimabara Peninsula is also the location of Shimabara-shi, a city of about 50,000 people. Shimabara Castle, as well as the nearby samurai street where three samurai houses have been restored and opened for public viewing, are the main tourist attractions of the city. The city is also famous for its hot springs.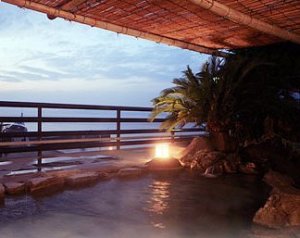 Ryokan with Hot Springs
(There is an onsen tax of about 150 yen to 500 yen or more per person at many ryokans)
Ryokan Categories

Price Per Guest Based on Double Occupancy
(See ryokan page for meals included.)

A+
30,000 to 50,000 yen
A
20,000 to 30,000 yen
B
15,000 to 20,000 yen
C
10,000 to 15,000 yen
D
7,000 to 10,000 yen

---
Rediscover Japan Co., Ltd. (dba Japanese Guest Houses)
Hyogo-ken Chijitoroku Ryokogyo 3-609 (Hyogo Prefecture Travel Agent License Number 3-609)
10-5-401-1-(2) Sakae-machi, Kawanishi-shi, Hyogo-ken 666-0033 Japan
Staff at Japanese Guest Houses
Copyright © 2000-2008 Rediscover Japan Co., Ltd. All Rights Reserved. Privacy Policy