---


---




---








Also Try Japan Roads
for Tours to Experience Japan's Cultural Diversity


Make a Reservation at a Ryokan (Traditional Japanese Inn) Anywhere in Japan

Home > Kansai Region > Prefecture > Kyoto Ryokan

| | | |
| --- | --- | --- |
| | Kyoto Ryokan | |

The ancient capital of Japan for over 1,000 years, Kyoto remains the most historically important city in Japan. At first glance, Kyoto appears to be like any other Japanese city. It is a sprawling metropolis with a population of over 1.5 million people, and it possesses prosperous industrial and technological sectors. However, with a good map in hand and some planning in mind a visitor will quickly discover the incredible richness of Kyoto's past. There are over 1,700 Buddhist temples, 300 Shinto shrines, palaces and gardens, and some of Japan's top museums and galleries located in this city. Although there is so much to see and do in Kyoto, even a short-time visitor can soon get an appreciation of what this ancient capital has to offer. The best time to visit Kyoto is in the spring and fall when the weather is at its finest.

Taking one of our Cultural Tours in Kyoto is also a great way to connect with Japanese culture. We offer a wide variety of tours from Tea Ceremony to Cooking in a Japanese Home to Saké Appreciation. To see our other tours please Click Here.
Kyoto Cuisine and Maiko Evening is now offered by Gion Hatanaka. For details please Click Here.
Single Guests:
Unfortunately most Ryokans in Kyoto do not accept single guests during the months of March, April, October and November. You can try Nara, Osaka or Yuki Teramachi's Kyoto Country Living in Kameoka. All three are interesting and within 1 hour of Kyoto.

Area Photos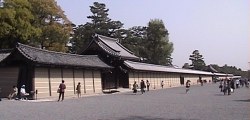 Ryokan with Hot Springs
(There is an onsen tax of about 150 yen to 500 yen or more per person at many ryokans)
Ryokan Categories

Price Per Guest Based on Double Occupancy
(See ryokan page for meals included.)

A+++
70,000 yen and up
A++
50,000 to 70,000 yen
A+
30,000 to 50,000 yen
A
20,000 to 30,000 yen
B
15,000 to 20,000 yen
C
10,000 to 15,000 yen
D
7,000 to 10,000 yen
Price Per Guest: 30,000 to 50,000 yen
(tax not included)
Name
Prefecture
City
Area
Style
Price Per Guest
(subject to change)


Gion Hatanaka

Kyoto-fu
Kyoto-shi
Kyoto
Modern Ryokan
Category:
A++, A+, A
Hiiragiya Ryokan

Kyoto-fu
Kyoto-shi
Kyoto
Luxurious Ryokan
Category:
A+++, A++, A+
Ikumatsu

Kyoto-fu
Kyoto-shi
Kyoto
Modern Ryokan
Category:
A+, A
Kibune Hiroya

Kyoto-fu
Kyoto-shi
Rural Kyoto
Modern Ryokan
Category:
A, A+
Sumiya Ryokan

Kyoto-fu
Kyoto-shi
Kyoto
Traditional Ryokan
Category:
A, A+
Tamahan

Kyoto-fu
Kyoto-shi
Kyoto
Traditional Ryokan
Category:
A++, A+, A
Yuzuya Ryokan


Kyoto-fu
Kyoto-shi
Kyoto
Traditional Ryokan
Category:
A+
Price Per Guest: 20,000 to 30,000 yen
(tax not included)
Name
Prefecture
City
Area
Style
Price Per Guest
(subject to change)


Gion Hatanaka

Kyoto-fu
Kyoto-shi
Kyoto
Modern Ryokan
Category:
A++, A+, A
Gyozanen

Kyoto-fu
Kyoto-shi
Rural Kyoto
Traditional Ryokan
Category:
A, B
Hiiragiya Bekkan

Kyoto-fu
Kyoto-shi
Kyoto
Traditional Ryokan
Category:
A, B
Ikumatsu

Kyoto-fu
Kyoto-shi
Kyoto
Modern Ryokan
Category:
A+, A
Kibune Hiroya

Kyoto-fu
Kyoto-shi
Rural Kyoto
Modern Ryokan
Category:
A, A+
Kikokuso

Kyoto-fu
Kyoto-shi
Kyoto
Traditional Ryokan
Category:
A, B
Arashiyama Benkei

Kyoto-fu
Kyoto-shi
Arashiyama, Kyoto
Traditional Ryokan
Category:
A
Rantei

Kyoto-fu
Kyoto-shi
Arashiyama, Kyoto
Traditional Ryokan
Category:
A
Ryotei Koyo

Shiga-ken
Otsu-shi
Lake Biwa
Ryokan Hotel
Category:
A
Seryo

Kyoto-fu
Kyoto-shi
Rural Kyoto
Traditional Ryokan
Category:
A
Shouenso

Kyoto-fu
Kameoka-shi
Rural Kyoto
Ryokan Hotel
Category:
A
Sumiya Ryokan

Kyoto-fu
Kyoto-shi
Kyoto
Traditional Ryokan
Category:
A, A+
Tamahan

Kyoto-fu
Kyoto-shi
Kyoto
Traditional Ryokan
Category:
A++, A+, A
Togetsutei

Kyoto-fu
Kyoto-shi
Arashiyama, Kyoto
Traditional Ryokan
Category:
A, B
Tsuruse

Kyoto-fu
Kyoto-shi
Kyoto
Traditional Ryokan
Category:
A, B
Yachiyo
Kyoto-fu
Kyoto-shi
Kyoto
Traditional Ryokan
Category:
A, B
Price Per Guest: 15,000 to 20,000 yen
(tax not included)
Name
Prefecture
City
Area
Style
Price Per Guest
(subject to change)


Gion Fukuzumi

Kyoto-fu
Kyoto-shi
Kyoto
Modern Ryokan
Category:
B, C
Gyozanen

Kyoto-fu
Kyoto-shi
Rural Kyoto
Traditional Ryokan
Category:
A, B
Tsuruse

Kyoto-fu
Kyoto-shi
Kyoto
Traditional Ryokan
Category:
A, B
Hiiragiya Bekkan

Kyoto-fu
Kyoto-shi
Kyoto
Traditional Ryokan
Category:
A, B
Ishicho Shogikuen

Kyoto-fu
Kyoto-shi
Kyoto
Modern Ryokan
Category:
B, C
Jijuden

Kyoto-fu
Kyoto-shi
Kyoto
Modern Ryokan
Category:
B, C
Kikokuso

Kyoto-fu
Kyoto-shi
Kyoto
Traditional Ryokan
Category:
A, B
Kurama Onsen

Kyoto-fu
Kyoto-shi
Rural Kyoto
Modern Ryokan
Category:
B
Kyonoyado Rakucho

Kyoto-fu
Kyoto-shi
Kyoto
Modern Ryokan
Category:
B, C
Motonago Ryokan
Kyoto-fu
Kyoto-shi
Kyoto
Traditional Ryokan
Category:
B
Togetsutei

Kyoto-fu
Kyoto-shi
Arashiyama, Kyoto
Traditional Ryokan
Category:
A, B
Yachiyo


Kyoto-fu
Kyoto-shi
Kyoto
Traditional Ryokan
Category:
A, B

---
Rediscover Japan Co., Ltd. (dba Japanese Guest Houses)
Hyogo-ken Chijitoroku Ryokogyo 3-609 (Hyogo Prefecture Travel Agent License Number 3-609)
10-5-401-1-(2) Sakae-machi, Kawanishi-shi, Hyogo-ken 666-0033 Japan
Staff at Japanese Guest Houses
Copyright © 2000-2010 Rediscover Japan Co., Ltd. All Rights Reserved. Privacy Policy